Summer inclusive cable cars and busses
In the summer the cable cars and busses in Saas-Fee / Saas valley are inclusive. In the Saas Valley you can enjoy 8 fantastic holiday destinations, (exkl. MetroAlpin and summer ski)
Metro Plus Ticket:
When buying Metro Plus Tickets* (Saas-Fee-Mittelallalin walking ticket, non-skiers), pay CHF 45.- (children CHF 38.-) and travel to Mittelallalin as many times as you like while it's still valid inclusive ice pavilion.
Saas-Fee
Saas-Fee

this world-renowned, car-free glacier village lies on a high plateau 1800 metres above sea level, at the foot of the highest Swiss mountains, the Mischabel chain.

Enjoy the sweeping view of the fascinating world of mountains and glaciers from the revolving restaurant at the Mittelallalin (3500 m above sea-level). A visit to the highest ice pavilion in the world is a must when you visit the Allalin.

As well as 150 km of ski slopes, a snowboard park, and 30 km of winter hiking trails, 350 km summer hiking trails Saas-Fee offers lots more fun for young and old alike. Saas-Fee is the destination for sports enthusiasts from all over the world. Owing to the fact that no cars are allowed in this village, it has retained its romantic character, and the lively main street positively invites you to enjoy a gentle stroll round the shops. The village with its magnificent view will offer you unforgettable winter- as well as summer holidays.
The Saas Valley
The Saas Valley is situated in the south of Switzerland on the border with Italy. Well-known resorts such as Locarno and Ascona in the canton of Tessin are at the same latitude. The Saas Valley enjoys a mild, evenly-balanced climate despite its high altitude, as indicated by the unusually high tree-line and the rich and colourful alpine flora among other things.
Visitors can enjoy around 300 days of sunshine a year.
Saas-Fee / The Saas Valley in summer
Apart from its 350 km-long network of hiking paths, the Saas Valley also has a wide variety of summer activities for both old and young: summer skiing and snowboarding, n

ordic walking, adventure forest,

mountain-biking, driving range, tennis, football, basketball,

beach-volleyball,

volleyball, skatepark, mini-golf, pétanque, pit pat, trekking on horseback, scooters, aerobics, climbing sessions for children and sunrise excursions,

Aqua Allalin of relaxation and sport with

wellness, sauna, steam bath to name but a few

.
ADVENTURE FOREST
The adventure forest in Saas-Fee. Swing on a liana from tree to tree or walk unsteadily across hanging bridges: a forest full of adventure for the whole family with various routes and degrees of difficulty.
ALMAGELLERHORN ADVENTURE TRAIL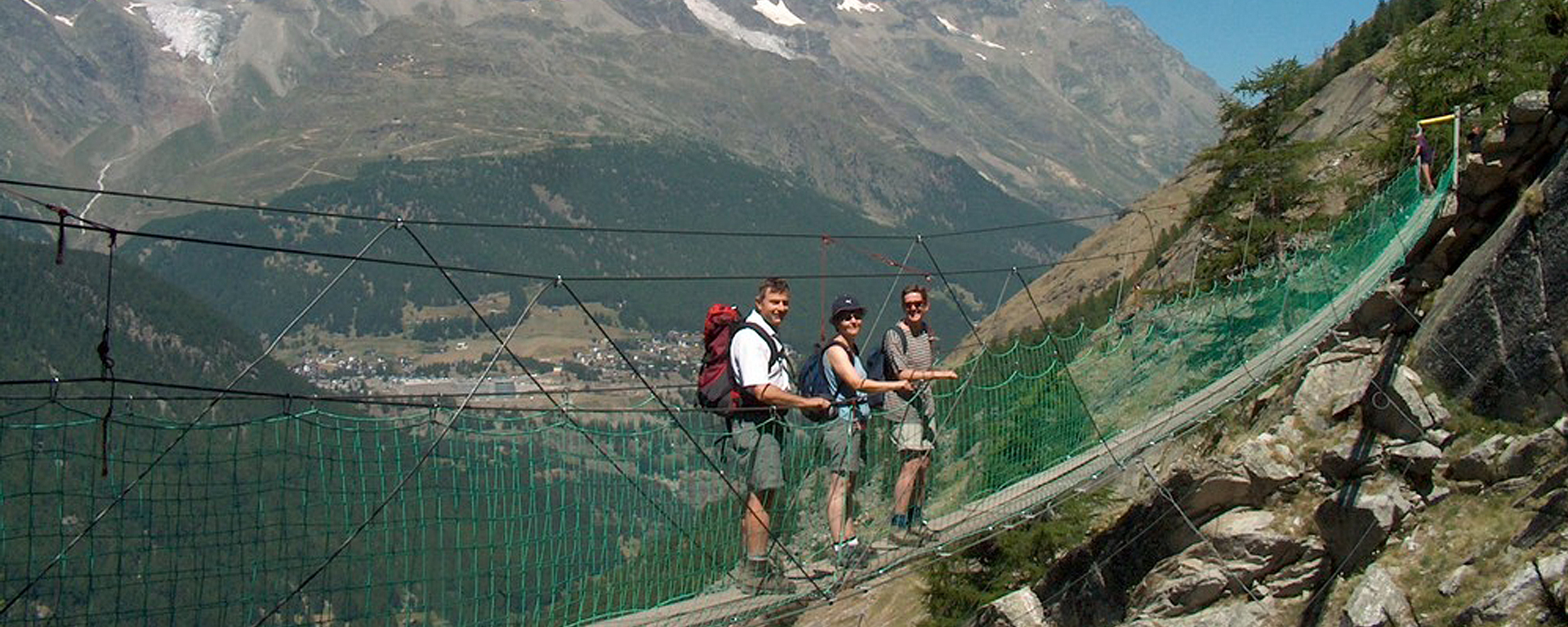 The Almagellerhorn adventure trail is the perfect hike for adventurous families, young people and the young at heart.
THE ALPINE GORGE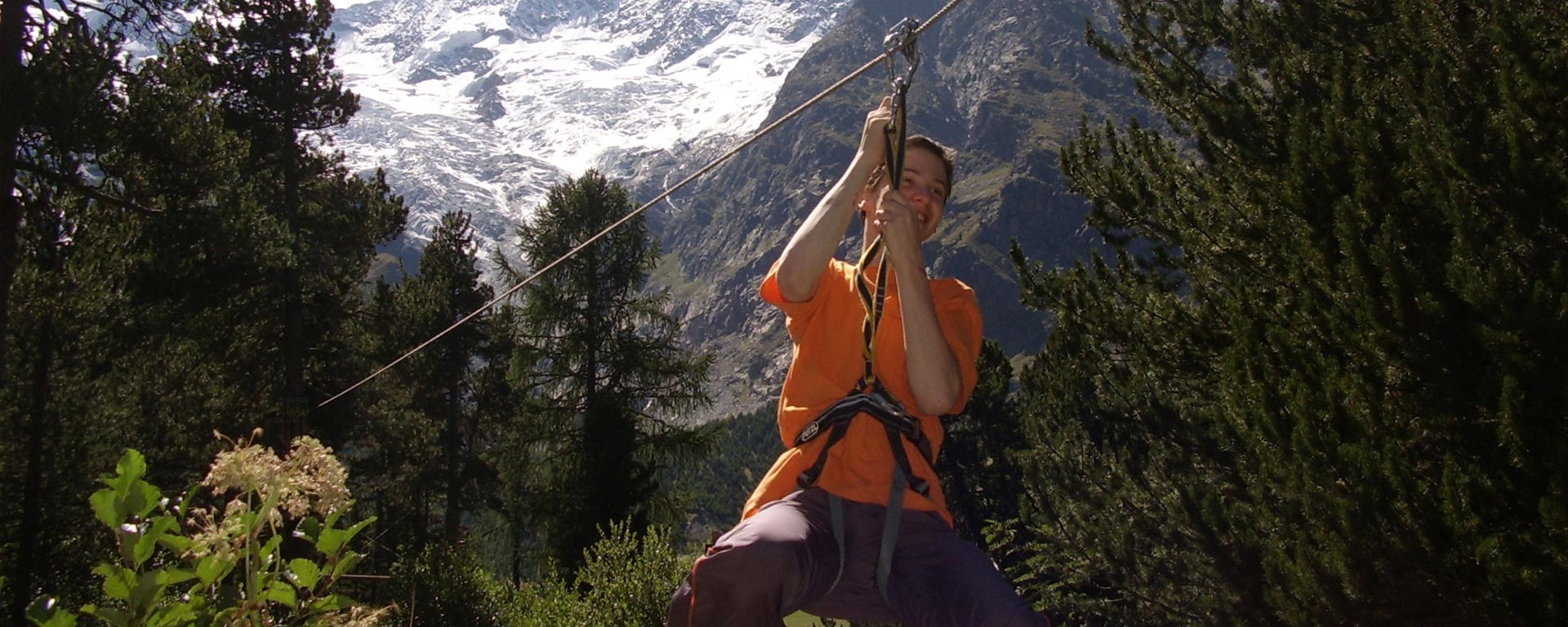 Canyoning without water! This adventure climb takes you through the wild, rugged gorge between Saas-Fee and Saas-Grund. Using Zip Line, rope bridges, ladders and ropes to traverse the Fee Gorge. Highlights of the trip are the exciting cable pulleys and the swinging gait. After the end of the tour you reach Saas-Grund in a short walk. Can only be undertaken with a mountain guide!
VIA FERRATA
A via ferrata is a climbing route which is at all times secured with wire cables and where needed with ladders. For experienced mountain hikers who have a good head for heights it represents an intermediate stage between hiking in the mountains and rock climbing. Various via ferrate in the area provide plenty of fun and adventure.
MOUNTAIN-BIKE TOURS
Explore the Saas Valley on a mountain bike on network of trails about 70 km. Various companies organise both easy and more challenging guided tours for visitors. All tours can also be undertaken independently.
SPORT- & FOOTBALLPLACE
Our sports and football field will make an athlete's heart beat faster, offers 4 new tenniscourts, football, basketball, beach-volleyball, volleyball, and driving range.
"FEEBLITZ" TOBOGGAN/BOBSLEIGH RUN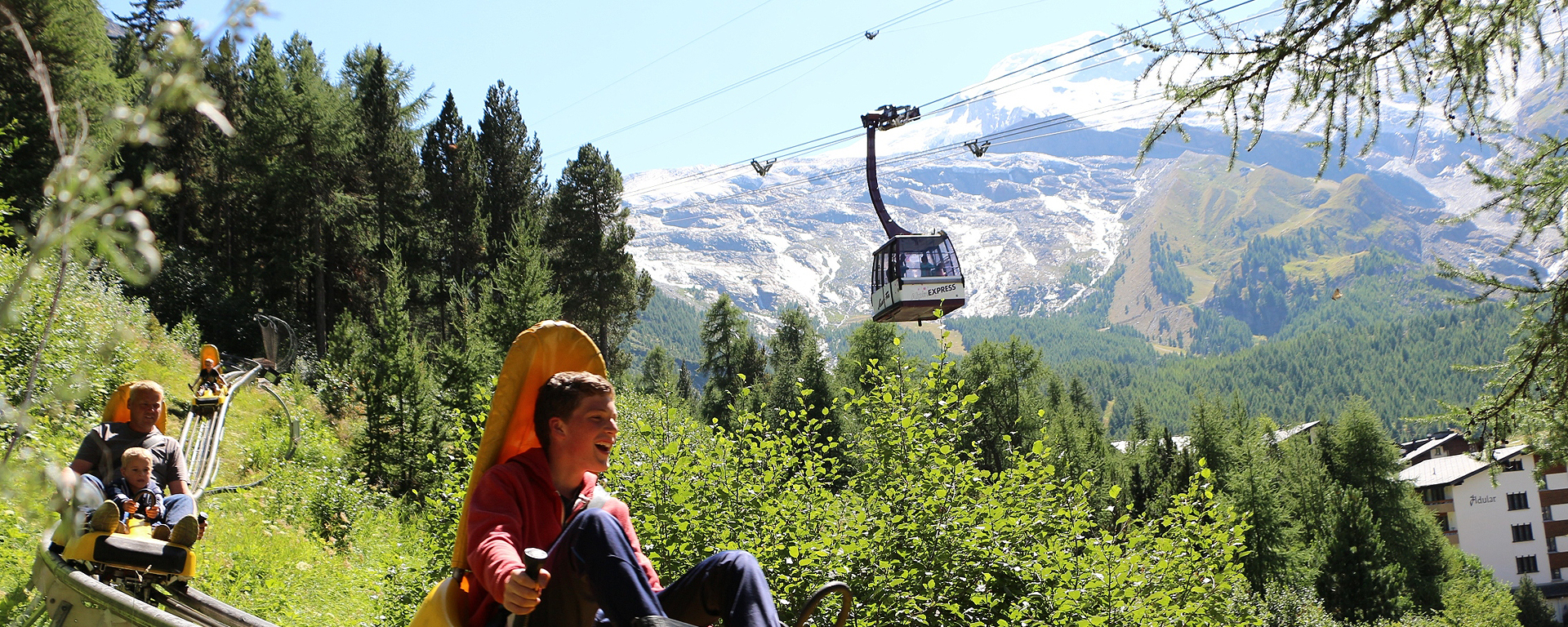 The experience of a lifetime in the pearl of the Alps. The toboggan run is open in summer and winter, and offers lots of fun for young and old alike.
TRY YOUR HAND AT CLIMBING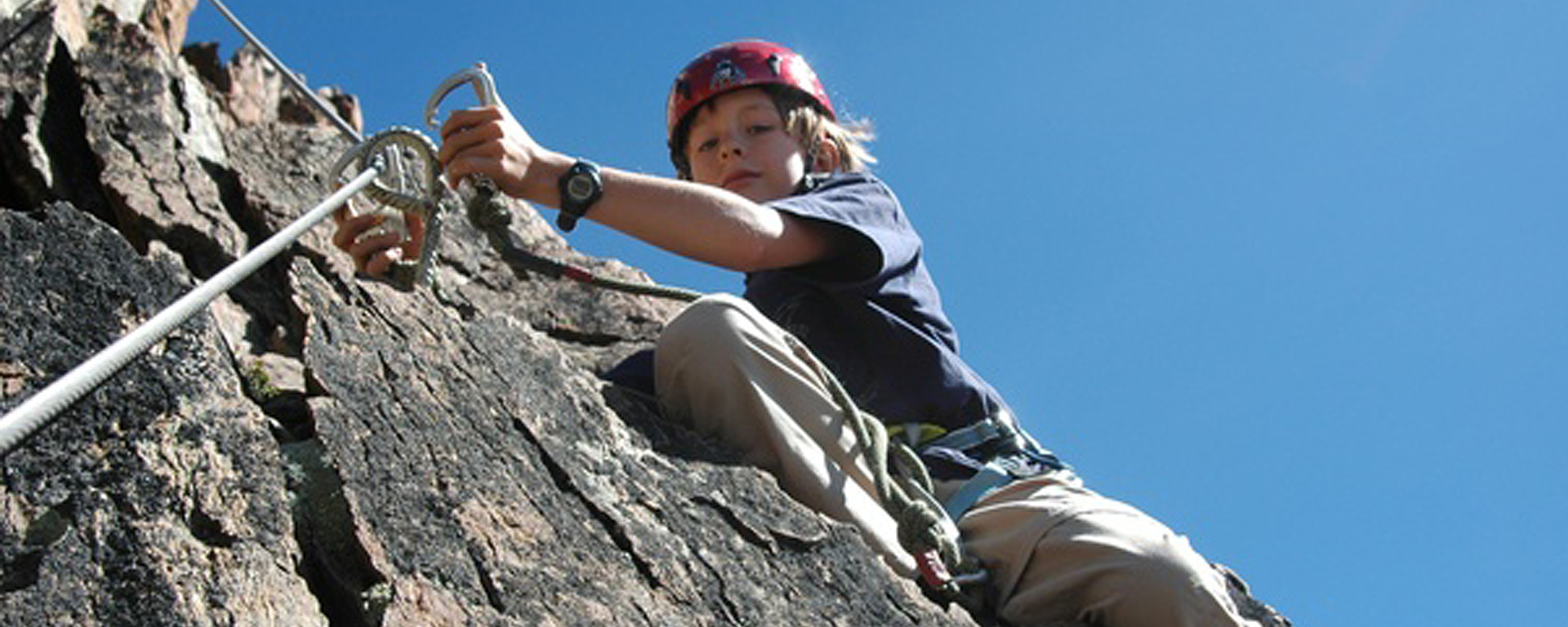 Playing with gravity, the feel of the warm rock, overcoming your fear to take on challenging feats in which you are secured at all times - experience all this when you try your hand at climbing.
SCOOTERS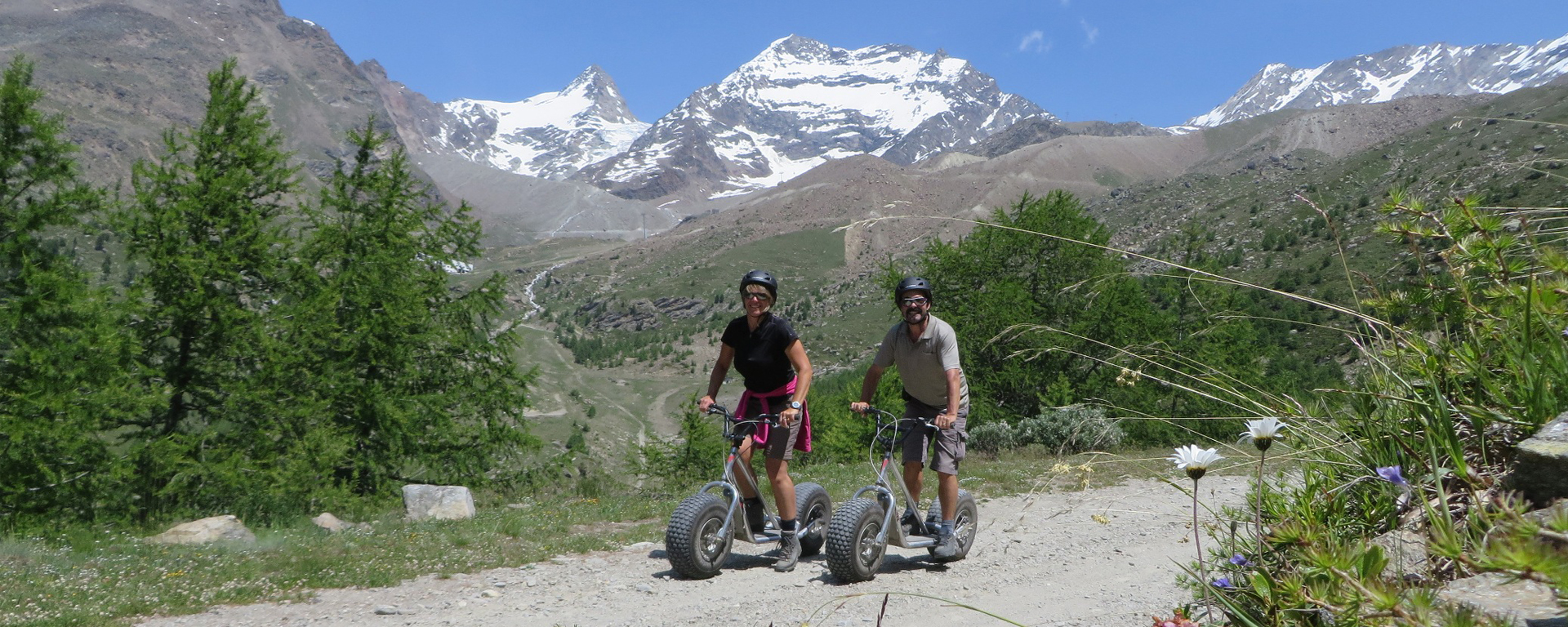 Riding a scooter on Hannig and Kreuzboden is fun and is an exciting experience for both old and young.s
AQUA ALLALIN / WELLNESS
1900 m2 of sport and wellness with 25-metre indoor swimming pool, whirlpool, children's pool, water slide, outdoor terrace. Wellness with finnish sauna, bio-soft sauna, herbal steam bath, whirlpool, footbath, navel stone, hydromassage showers, gorge balcony, relaxation room and a fitness centre.
CRAZY GOLF / PIT-PAT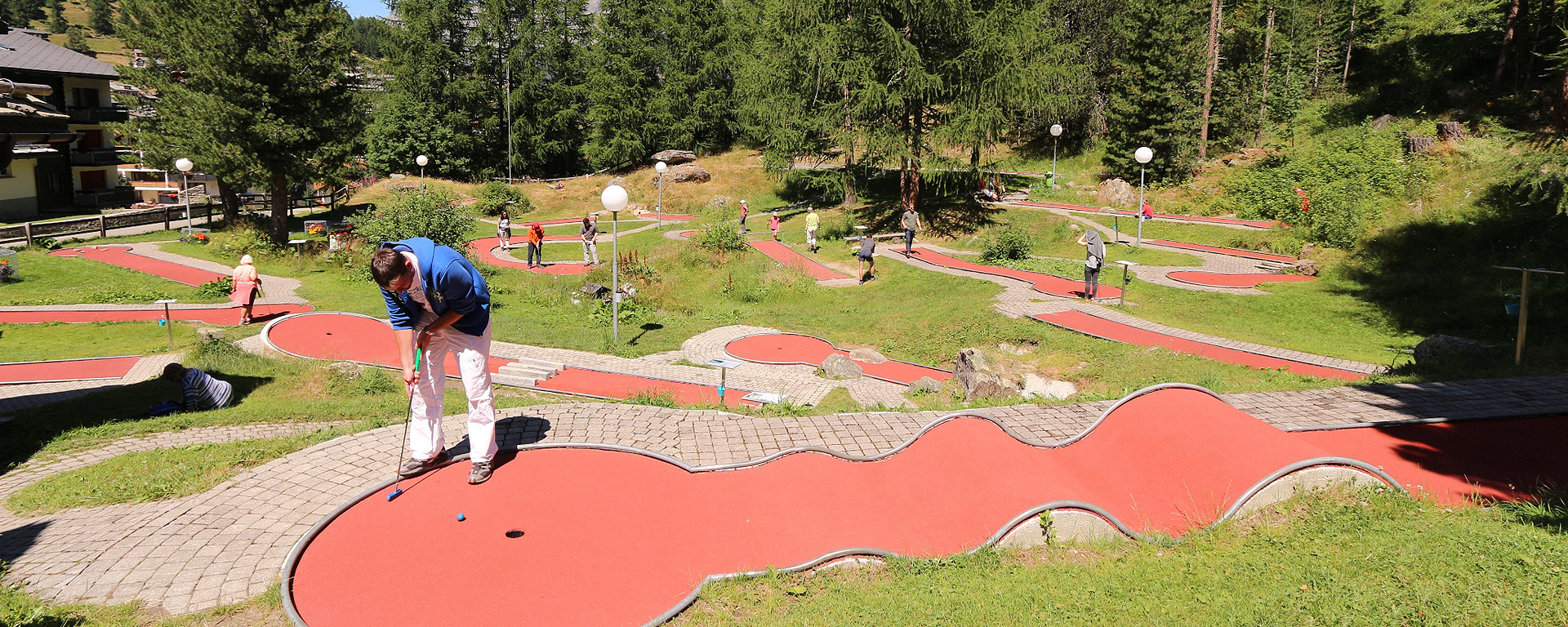 Saas-Fee and Saas-Almagell have crazy golf courses and Saas-Almagell tables for playing pitpat, a cross between crazy golf and poo.
SUMMER SKI & SNOWBOARD
Saas-Fee and Saas-Almagell have crazy golf courses and Saas-Almagell tables for playing pitpat, a cross between crazy golf and poo.
FREESTYLE PARK
We have kickers, rails, boxes and transitions in all shapes and sizes to suit all skill levels, from beginners to pros, not to mention a unique yet challenging half-pipe!
18 FOUR-THOUSAND-METRE-PEAKS
The 1,4 km long trail begins at the Hohsaas arrival station. The Saas Valley is surrounded by 18 four thousand-metre peaks. Apart from the contours which look as if they had been sculptured, and photos of individual peaks and the chain of mountains, path-side boards give written descriptions concerning the history, such as a first ascent. Time: 50–60 min.
MATTMARK RESERVOIR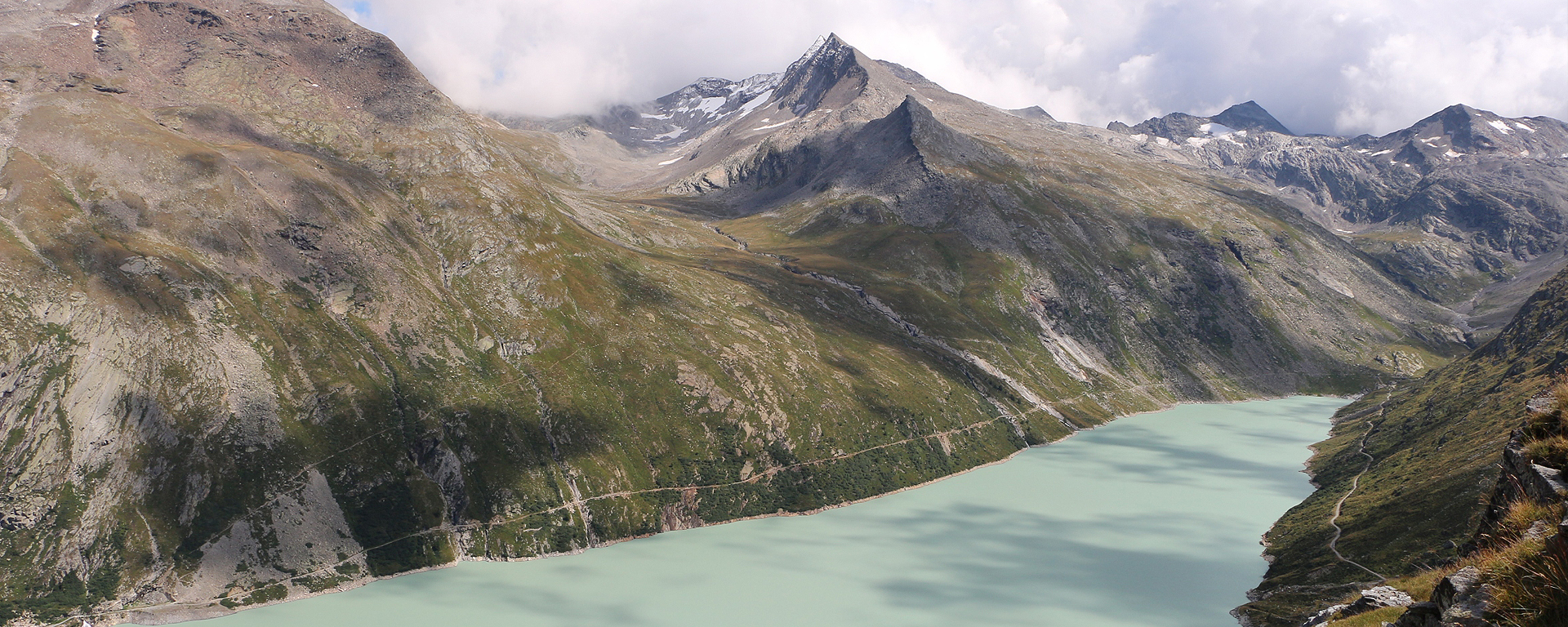 The area around Mattmark, with Europe's largest earth dam, is now even more attractive for daytrippers and ramblers. At the Mattmark Dam Info Cinema in the new Mattmark Restaurant, visitors can now go on a journey through time to see the history of the Mattmark.